Responsibility and our working method
Together with our clients, we are committed to promoting responsible and sustainable mining. We are known for our high quality; the safety of work conditions and the end result always forms the basis for our operations, and we aim to maintain level zero in accidents.
We want to be both a responsible partner for our customers anda a responsible employer for our personnel. In 2021 we made a current state analysis and target state mapping of our responsilibity themes and actions for the following years.
In terms of environmental sustainability we strive to reduce Co2 emissions in all our operations.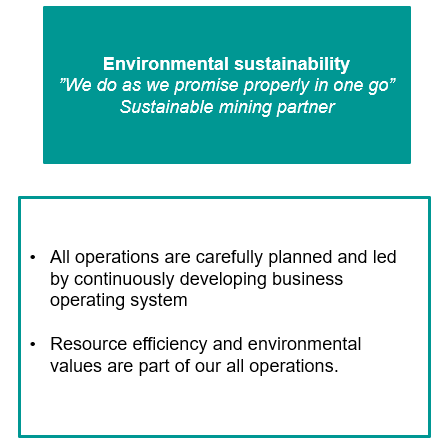 Responsibility does not only consist of environmental sustainability, but social sustainability and good governance also play an important role. In terms of social sustainability, our goal is to increase the company's recognition and enhance the effectiveness of employer image.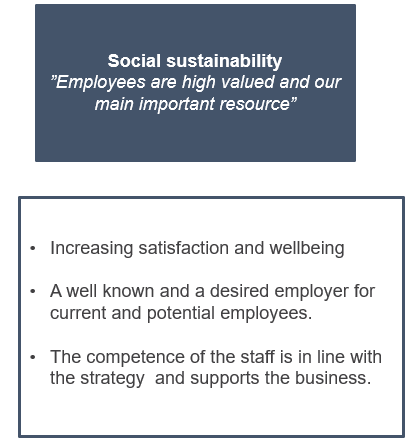 We follow the principles of good governance in all operations.
Our carefully planned and continuously developing business operating system ensures that our services are carried out flawlessly and on schedule from day to day and project to project. To us, a mining contract is not only about getting the job done but also about offering the most innovative, cost-efficient and safe solutions to the mining and constuction industry in order to guarantee the success of our clients.
Success consists of many components: recognizing and assessing risks (we know how to work efficiently and safely), safety announcements (information on accidents, corrective measures and dangerous incidents is shared with all), open discussion and interaction on occupational safety both internally and with clients, safety-first attitude among workers and within the workplace and continuous improvement.
To us, every contract is about constant learning and teamwork where safety, quality and productivity are the measures of success.